thermal conductivity sensor ( tc)
general hints
The operating manual describes the construction, the operation and the application areas of the hydrogen analyser
The manufacturer ensures that this operating manual has been written in according to the functional and technical features of the delivered hydrogen analyser.
This manual is not subject to the update information service. In case of alterations on the hydrogen analyser following from technical development the user is responsible for a correct classification of the enclosed additional or updated pages.
A trouble-free and functional operation of the ANALYSER can only be guaranteed with knowledge of this operating manual. Please read it thoroughly before installing.
Pages, tables and illustrations are numbered continuously.
The values shown on the display in this manual are examples of the manufacturer. The process-specific results must be determined by the user.
Application field
Functional descriptio
Measuring principle
The WLD contains a sensor which uses thermal conductivity of a platinum wire. The thermal conductivity increases or decreases with concentration changes.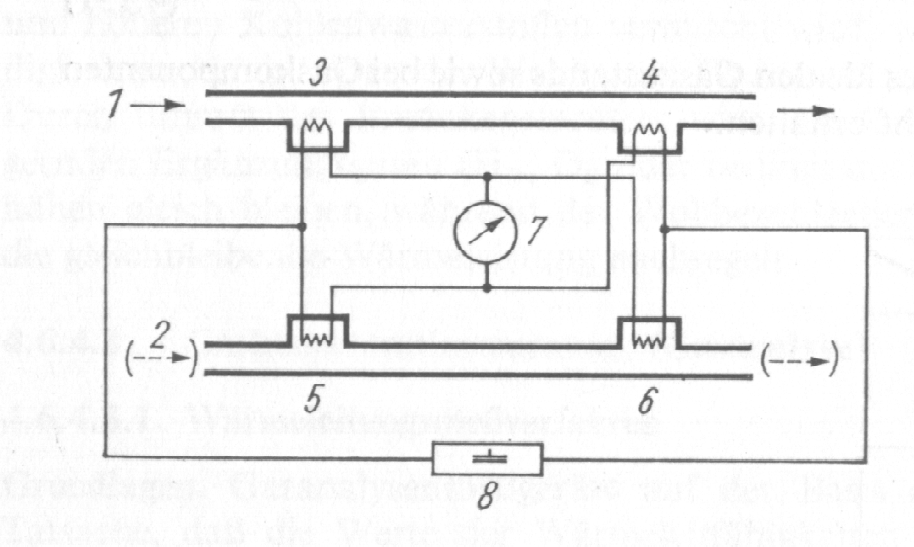 picture: general display of the measuring prinzipl
The hydrogen analyser serves for the continuous measuring of the oxygen concentration in industrial, laboratory and protective gases -, as well as during mixing, production and processing of special gases in industry.
Main application area of the hydrogen analyser is
.
| | |
| --- | --- |
| • | control in the hydrogen content in gases |
| | |
| --- | --- |
| • | control quality and concentration of industial gases |
the insert of explosive componets or corrosive gases is not permitted in the standard sensor

for this applications ask for our corrosive proof or/and Ex - proof version
When using the hydrogen analyser
• the hydrogen content in a measuring gas is measured and displayed continuously,
• deviations from adjustable set points of the hydrogen concentration are spotted,
• the expiry of defined production processes under protective gas is checked
• gases are checked on their purity
The demands and limiting values must be kept as indicated in the "technical data". The apparatus is not to be applicated for any other values! Use of the apparatus beyond these ranges will be considered as improper use.
Safety labelings
The following safety directions are concerned wih possible dangers during operation of the gas mixing device hydrogen analyser. Therefore they must be regarded and strictly kept by the responsible staff.
A trouble-free and functional operation of the ANALYSER can be ensured only with knowledge of this equipment manual. Please read all chapters of this equipment manual thoroughly before installating and connecting .
The ANALYSER may only be used as it is meant to be (see chapter 2)
The ANALYSER may be started, operated and attended by instructed personnel only.
| | |
| --- | --- |
| | Before opening the lid of the hydrogen analyser switch it off and disconnect it from the mains. |
.